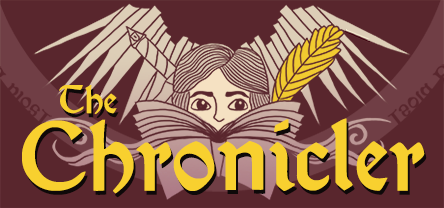 The Chronicler (Early Alpha)
Hello everyone!
It's time for another update, yay!
We've added ranged combat to the game. You can craft a wooden bow and start shooting things from a distance, which is pretty cool.
We've also made a small change on how combat works: now you must left-click on the enemy to start attacking. This way, you can't fight multiple enemies at the same time, which makes combat a bit more dangerous.
We're expanding the content you can find in the forests with a new fortress and some NPCs you can interact with, and get quests from. On our next patch, you'll be able to explore the fortress' underground caverns.
Check out the patch notes for the whole list of changes.
See you next week with another exciting update! :)
Octavi & Susanna
Alpha 1.2.3
Added ranged combat.
A Wooden Shortbow can now be crafted on any Crafting Table (more types of bows will be available soon).
The player must now click on enemies to start fighting.
Added a little sign that points to the selected enemy.
Reduced "Accurate Hit" special move strength by half.
Added a new NPC on the shore, Sailor Brianna, that will help us with our first steps on the island.
Dragonflies and Lizards aren't identified as Wolves anymore.
The ruins of a once majestic castle, Cincta Fortress, appeared in the middle of the forest. Go meet their peculiar inhabitants.
Added two mini-quests linked to the Cincta Fortress (more to come in upcoming updates).
Added new items: Berries, Wooden Shortbow and Worshipper's Tunic.
Fixed the game on wide-screen resolutions.
Weapons have now a "distance" attribute.
Added a sound when the enemy hits.
Blood is now a static image instead of a particle effect.
Blood is shown both when the player and the enemy are hit.
Enemies now stop in front of the player instead of trying to walk on top.
Fixed a bug where the Unarmed ability wasn't saving properly.
Enemies disengage from combat when the player is at a certain distance.
Slightly increased aggro distance on all enemies.
"Choose your Character" is now "Choose your Chronicler".
The "Chronicler" profession is now called "Master Storyteller".
Improved collisions on trees.
Footsteps are now shown behind the player.
Orb of the Forest inventory icon has changed.
Added an inventory icon for bows.
Slight changes to the dialogue layout.
Dialogues can now be scrolled down with the mouse wheel.
Added some visual details in Diluvia Coast.
Improved Captain Alistair's model.
Improved Quartermaster Olsen's model.
Get The Chronicler (Early Alpha)
Comments
Log in with itch.io to leave a comment.
Hola Octavi, felicitaciones!! Vais a sacar una version para Mac?
Buenas! En principio tenemos pensado publicar para Mac cuando la versión en PC esté un poco más pulida. Haremos difusión llegado el momento. Un saludo!