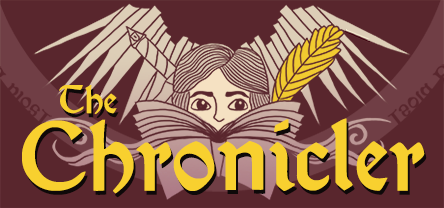 The Chronicler (Early Alpha)
The BIG Update is here! :D
---
Hi everyone!
We're extremely happy to announce that our BIG update is live!
You can download the new version from the game's page.
It took a while but we're quite proud of what we accomplished in such a short time, and we hope you enjoy all the new content!
Except for some last-minute bug fixes and additions, this is the version we'll be releasing on Steam Early Access in a couple of weeks, and we wanted you to play it first, as a thank you for being an early adopter. It will be then when we'll send you a Steam key, as promised.
While the previous version felt a bit like a concept demo with little gameplay in it, we think it now feels, looks and plays more like a game, even if it's still 1% of what we want the finished product to be. It's a good foundation to keep working on and we are super excited about the many features and content we're going to add next.
We want to thank you once again for your patience (from now on, updates will come more often), and for your support in this early stage of development. We know it's not always fun to play an unfinished game, but putting it in the hands of players this soon is our best tool to make a great game.
Here's a summary of what's been added and changed in this update (we'll post detailed update notes in a few days):
Alpha v.1.2.0
Viridis Forest: 5 new areas of forest with caves and secrets to find. We'll keep opening areas in future updates.
Added new quests and fixed some of the existent ones.
Added 8 new types of enemies.
Special Moves: You can activate your Chronicler's special moves while in combat, using 0-9 keys. You start the game with one Special Move and a new one is added every few levels. This feature is still in progress, as we'll keep adding specific moves for each type of weapon.
Abilities: Improve your Chronicler's abilities by fighting, crafting, fishing, cooking... This feature is still in progress.
Levels now increase as a visual representation of your general abilities. Leveling up only improves your Health stat now.
Many new items to loot, equip, buy or sell.
Orbs of the Forest: Collect Orbs while you explore the forest and use them to craft Healing Potions.
Fishing: Get your fishing rod ready and fish some River Trouts! This feature is still in progress, as more kinds of fishes and fishing levels will be added in the future.
Cooking and crafting: Cook delicious dishes and craft your own weapons. More cooking and crafting items will be available in coming updates.
Chests: Find some nice loot hidden in chests. A lockpicking ability and trapped chests will be included in coming updates.
Many changes and additions to the combat system.
Auto Save: You'll have to live with your mistakes from now on ;)
Visual improvements in almost all areas.
GUI improvements.
Added new sound effects.
Tons and tons of bug fixes!
We hope you enjoy this new update, and if you have any suggestions or bug reports, let us know in the comments!
Octavi & Susanna
Get The Chronicler (Early Alpha)